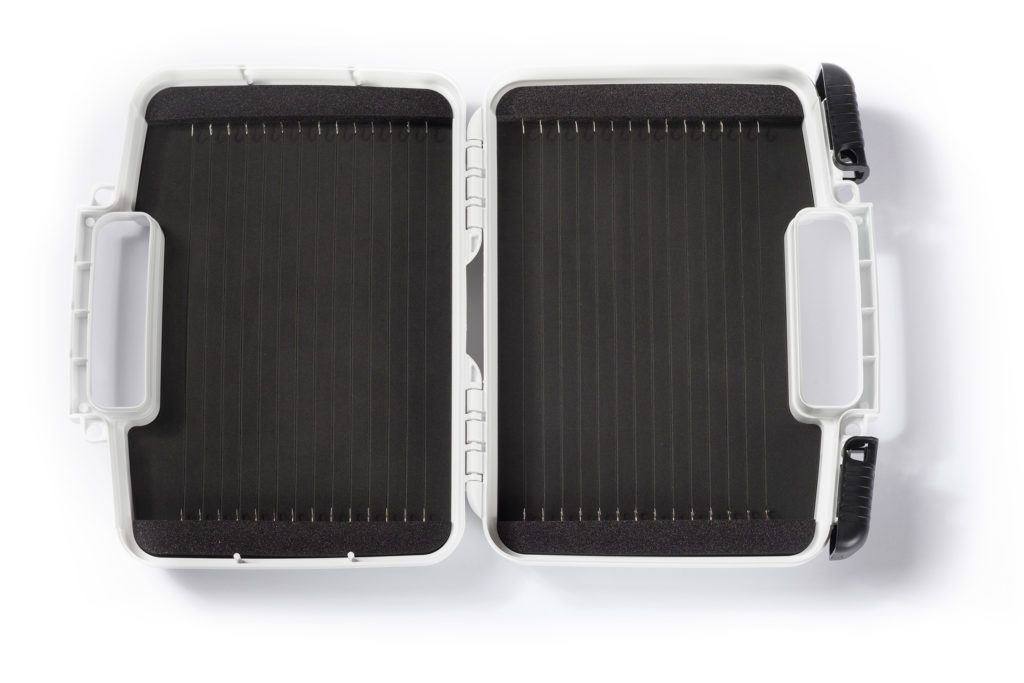 Plan D Boat Articulated Fly Box
There are a lot of fly boxes on the Market today and most of them are designed very well, but tend to be somewhat repetitive.  Today's current fly tying craze incorporates a lot of "shanks" in the fly design and the current fly box designs on the market today do not allow these flies to be secured properly.  
We tie a lot of "intruder" style spey flies for steelhead in our region and the fly design typically has a hook in the rear of the fly attached to a "shank".   This style of fly doesn't store well in most of todays fly box designs and usually creates a mess of flash and fur over time for me to sort through.  Well, there is a new fly box design on the market that is designed to work exclusively with a shank to rear hook fly design.
Enter PlanD Fishing Solutions and the New Plan D Boat Articulated Box!!  We were able to get our hands on one of these new boxes and put it through a "guide" test and I must say it surpassed all of our expectations.  The design is simple and compact, very durable, and more importantly it is easy to use and includes a foam patch on the outside to dry your flies after each use.  More importantly the foam slits and stainless steel hooks secure your flies and keep the flies locked in place even after bouncing down the road and getting tossed about the boat.
The Plan D Boat Articulated Box compact size still allows you to carry 56 articulated streamers and will fit in most of todays standard boat bags without taking up a ton of space.    Plan D Fishing Solutions also has a couple of other fly box configurations including an all articulated design (Pictured), a 50/50 configuration, and a standard foam slit design for standard flies.  They also sell a couple of other models that incorporate a more compact fly box design with the same articulated fly configuration in a Pocket and Pack model for the walk in angler.  I highly recommend this product and you can check out the boat box and their entire line of products on their Plan D website.
Support your Local Fly Shops.  You can find the Plan D Boat Articulated Fly Box at the Northern Angler, Great Lakes Fly Fishing Co, and Schultz Outfitters.
Ed McCoy
https://hawkinsoutfitters.com/wp-content/uploads/2016/10/steelhead-streamer-fly-box.jpg
371
640
Chuck Hawkins
https://hawkinsoutfitters.com/wp-content/uploads/2020/01/Facebook-300x300.png
Chuck Hawkins
2016-10-08 20:03:54
2017-02-28 15:01:58
Plan D Boat Articulated Fly Box - Product Review